In the wilderness, building shelters and starting a fire are two of the most critical survival skills to have. In this article, we'll explore different techniques for building shelters and fires and offer tips on how to stay safe and warm in the wilderness.
When you're lost in the wilderness or stranded, your first priority should be to build a shelter and start a fire. A good shelter provides protection from the elements and helps regulate your body temperature. A fire provides warmth and light, which can be a source of comfort in a survival situation.
Building a Shelter:
The type of shelter you build will depend on the environment, weather conditions, and available resources. There are several types of shelters, including debris huts, lean-to's, and tarp shelters.
Debris huts are built using natural materials such as sticks, leaves, and branches, and are an excellent option in colder weather. Lean-to is a simple shelter that can be constructed using a tarp, poncho, or other waterproof material. Tarp shelters are also an excellent option as they are lightweight and easy to set up.
When building a shelter, it's essential to select a location that is dry, protected from the wind, and close to a water source. The shelter should be constructed in a way that minimizes heat loss and maximizes warmth. Ensure that your shelter is large enough to accommodate you and your gear, and always insulate yourself from the ground.
When building a shelter, it's essential to be resourceful and use what's available to you in the environment. For example, if you're in a wooded area, you can use fallen branches, leaves, and bark to create a shelter. If you're in an open field, you can use rocks or even snow to create a shelter.
When constructing a shelter, it's important to make sure that it's sturdy and stable. Use the natural materials around you to create a frame, then layer debris such as leaves, grass, and pine needles to create insulation. You can also use materials like moss, pine boughs, or even animal hides to create a roof for your shelter.
It's also essential to create a doorway or opening in your shelter to allow for ventilation and easy access. If you're in a colder climate, you may want to consider building a raised bed inside your shelter to keep you off the ground and insulated from the cold.
Building a Fire:
Starting a fire in the wilderness is an essential skill that can be used for warmth, cooking, and signaling for rescue. To build a fire, you'll need to gather dry, combustible materials such as twigs, leaves, and bark. Look for materials that are as dry as possible, as damp materials will not burn well.
There are several techniques for building a fire, including the teepee, lean-to, and log cabin methods. The teepee method involves placing kindling in a teepee shape and lighting it from the bottom. The lean-to method involves leaning small sticks against a larger log and lighting the kindling at the bottom. The log cabin method involves stacking larger logs in a square and filling the center with kindling and smaller sticks.
When building a fire, it's essential to ensure that it's safe and contained. Choose a location that is protected from the wind and clear of any dry foliage or other flammable materials. Always keep a water source nearby, and never leave your fire unattended.
When building a fire, it's important to follow the Leave No Trace principles and only build a fire if it's necessary. In some areas, fires may be prohibited due to high fire danger or other regulations. Check with local authorities before starting a fire.
When gathering materials for your fire, it's important to look for dry materials that will burn easily. You can also use fire starters like dryer lint, cotton balls soaked in petroleum jelly, or even birch bark to help get your fire going.
Once you have your materials, you can use different methods to start your fire, such as using matches, lighters, or a fire starter. It's important to be patient and take your time when building your fire, as rushing can lead to accidents or injuries.
When your fire is burning, it's important to keep it contained and under control. Always have a water source nearby to put out the fire if necessary. You should also ensure that your fire is completely out before leaving the area.
Staying Safe and Warm:
In a survival situation, staying warm and dry is essential to your survival. Always dress in layers, starting with a moisture-wicking base layer and ending with a waterproof outer layer. Keep your head covered with a hat or other head covering, and use a scarf or balaclava to protect your face from the cold.
Stay hydrated by drinking water and melting snow or ice, and always purify any water you drink. If you're in a cold environment, ensure that you're eating enough food to keep your body warm and energized. Keep a positive attitude and stay alert for any signs of rescue.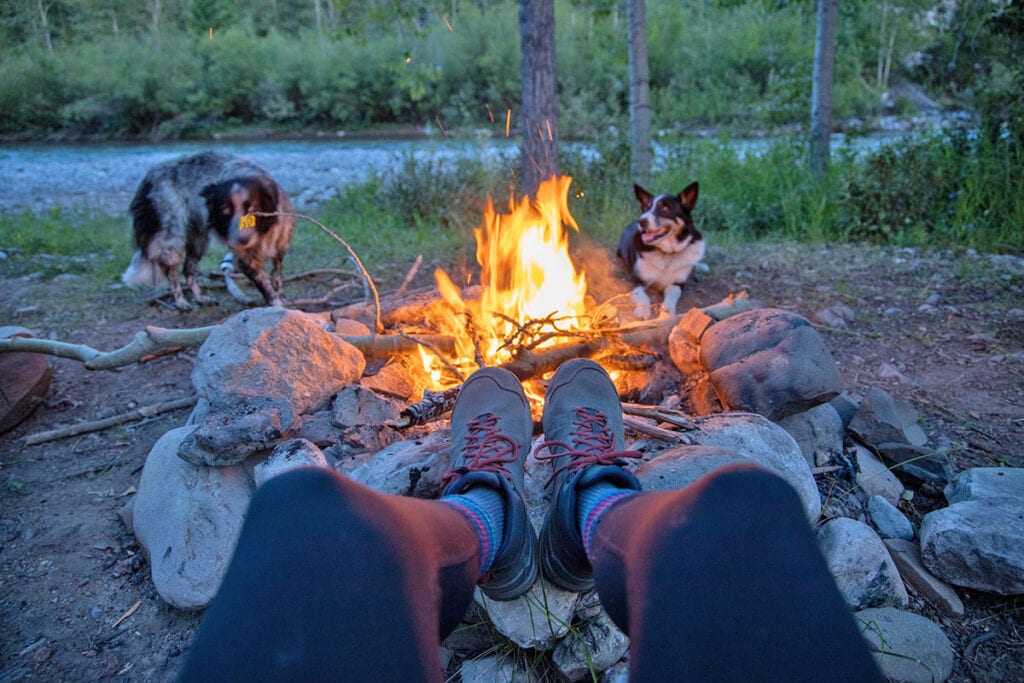 In addition to building a shelter and starting a fire, there are other steps you can take to stay safe and warm in the wilderness. These include:
Building a windbreak around your shelter to protect yourself from the wind
Using a space blanket or emergency bivy sack for additional warmth and insulation
Building a reflector wall behind your fire to reflect heat back into your shelter
Avoiding cotton clothing, as it can retain moisture and make you colder
Always carry a first aid kit and emergency signaling device in case of an emergency.
Remember, the key to survival in the wilderness is to be prepared and resourceful. With the right skills, knowledge, and equipment, you can increase your chances of staying safe and making it out of a survival situation.
Conclusion:
Building a shelter and starting a fire are two of the most critical skills to have in a survival situation. With the right techniques, materials, and tools, anyone can build a shelter and start a fire in the wilderness. Remember to prioritize safety and stay warm and dry at all times. With these skills and knowledge, you can increase your chances of survival in the wilderness.