This article aims to provide a comprehensive guide to building a bug-out bag, which is an essential tool for surviving emergencies and disasters. The article covers the definition of a bug-out bag, the importance of having one, and what items to include in it.
In times of emergencies and disasters, being prepared can make all the difference between life and death. A bug-out bag, also known as a go-bag, is a portable kit that contains essential items needed to survive for at least 72 hours in the event of an emergency. The purpose of this article is to provide a step-by-step guide on how to build a bug-out bag, what items to include, and why they are necessary.
Why is a Bug-Out Bag Important?
In times of disaster, you may need to evacuate your home quickly. A bug-out bag can help you do this with minimal stress and allow you to survive for at least 72 hours while you wait for assistance or make your way to safety. It is also important to have a bug-out bag in case of a prolonged power outage, natural disaster, or civil unrest. By being prepared, you are taking proactive steps to ensure your survival and the survival of your loved ones.
Choosing a Backpack
The first step in building a bug-out bag is choosing the right backpack. The backpack should be sturdy, comfortable to wear, and large enough to hold all of the necessary items. Ideally, a bug-out bag should have a capacity of 30-50 liters. It is also important to choose a backpack with multiple compartments to keep everything organized.
Water
Water is essential for survival, and it should be the first item on your list. The average person needs at least one gallon of water per day, so it is important to have a sufficient amount in your bug-out bag. However, water is heavy, and it is not practical to carry too much. Therefore, you should consider packing a water filtration system, water purification tablets, or a portable water filter.
Food
In an emergency situation, it is important to have non-perishable food that can provide enough energy and nutrition to sustain you. Some good examples of non-perishable food items include energy bars, dried fruit, beef jerky, canned food, and peanut butter. You should also consider packing a can opener and utensils to help with food preparation.
Clothing
Your bug-out bag should contain appropriate clothing to protect you from the elements. It is important to pack clothing that is appropriate for the climate and weather conditions of your area. Some important items to pack include a waterproof jacket, sturdy boots, extra socks, a hat, gloves, and thermal underwear. Additionally, it is a good idea to pack extra clothing in case of unexpected weather changes.
Shelter
In case you are stranded or forced to spend the night outdoors, having shelter is essential. A lightweight, waterproof tent is an ideal choice for a bug-out bag, but if you cannot carry a tent, you can consider packing a tarp or a bivy sack. A sleeping bag and a sleeping pad are also important to keep you warm and comfortable.
First Aid Kit
A first aid kit is an essential item in any bug-out bag. It should contain basic medical supplies such as bandages, antiseptic wipes, pain relievers, and prescription medications if you have any. You should also consider packing a CPR mask, gloves, and a first aid manual. Ensure you regularly check the contents of your first aid kit to ensure everything is up to date.
Hygiene and Sanitation
Maintaining hygiene and sanitation is crucial to prevent the spread of diseases and infections. Your bug-out bag should include items such as toilet paper, wet wipes, hand sanitizer, soap, and a towel. Additionally, you may want to pack a portable camping toilet or a small shovel to use as a makeshift toilet.
Light and Communication
Having a reliable source of light is essential for navigating through dark environments, signaling for help, and performing tasks at night. A good flashlight or headlamp is an essential item in a bug-out bag. It is also a good idea to pack spare batteries and a signaling device such as a whistle or a mirror to attract attention. Additionally, consider packing a portable radio or a hand-cranked charger to stay informed about the latest news and updates.
Tools and Equipment
Having the right tools and equipment can make a big difference in a survival situation. Some essential items to pack include a multi-tool, a knife, a saw, a hatchet, and a fire starter. You should also consider packing a paracord or a rope, duct tape, and a small sewing kit. These items can be used for various purposes such as building shelters, repairing gear, and starting a fire.
Personal Items
In a survival situation, it is important to stay mentally strong and maintain a positive outlook. Packing personal items such as a book, a deck of cards, or a favorite snack can help boost your mood and alleviate stress. Additionally, consider packing important documents such as identification cards, passports, and insurance papers in a waterproof container.
Emergency Cash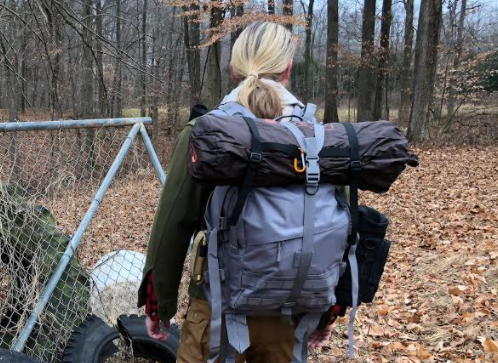 Having some emergency cash can be helpful in a variety of situations, such as purchasing food, water, or supplies. You should consider packing at least $100 in small denominations in your bug-out bag.
Conclusion
Building a bug-out bag can seem like a daunting task, but it is an important step toward being prepared for emergencies and disasters. By including the items mentioned in this article, you can increase your chances of survival and minimize stress during a crisis. Remember to regularly check and update the contents of your bug-out bag to ensure everything is in working order and up to date.