This article is about the various bushcraft and self-sufficiency techniques that can be employed for surviving in the wilderness. It will cover topics such as shelter-building, fire-making, trapping, fishing, and foraging, as well as the importance of having a self-reliant mindset.
Surviving in the wilderness can be an exhilarating and rewarding experience, but it can also be dangerous and challenging. To successfully navigate the wilderness and come out the other side, you need to have a set of skills that will allow you to be self-sufficient. That's where bushcraft and self-sufficiency techniques come in.
Bushcraft is the art of using the resources around you to survive in the wilderness. It's about living off the land, using what nature provides to create shelter, find food and water, and make fire. Self-sufficiency, on the other hand, is the ability to meet your basic needs without relying on others. This includes being able to produce your food, shelter, and other necessities.
Shelter-building
One of the first things you need to do when you find yourself in the wilderness is to build a shelter. A shelter will keep you warm and dry and protect you from the elements. There are several types of shelters you can build, including lean-to, debris huts, and A-frame shelters. The type of shelter you build will depend on the resources available to you and the climate you're in.
Fire-making
Fire is essential for survival in the wilderness. It provides warmth, light, and the ability to cook food. There are many ways to make a fire in the wilderness, including using a firestarter, flint, steel, or a bow drill. It's important to know which method works best for you and to always carry a reliable firestarter with you.
Trapping and fishing
Food is essential for survival, and trapping and fishing are two of the most effective ways to get it. Traps can be used to catch small game, such as rabbits or squirrels, while fishing can provide a steady supply of protein. It's important to learn how to construct traps and fish with different methods, such as with a fishing rod, line, and hook, or with a makeshift spear.
Foraging
Foraging is the process of finding wild edible plants in the wilderness. There are many edible plants in the wilderness, but it's important to know which ones are safe to eat and how to prepare them. Some common edible plants include wild berries, nuts, and roots. It's also important to know which plants are poisonous and to avoid them.
Self-reliance mindset
Perhaps the most important aspect of surviving in the wilderness is having a self-reliant mindset. This means being able to adapt to changing circumstances, being resourceful, and being able to make the best of a bad situation. It's also about being mentally tough and staying positive in the face of adversity.
Water procurement
Water is essential for survival, and it's important to know how to procure it in the wilderness. There are several ways to find water, including digging a hole in the ground to collect rainwater, finding a natural spring, or using a water filter to purify water from a stream or river.
Hunting
Hunting is another essential skill to learn in bushcraft and self-sufficiency. When it comes to hunting, you need to learn how to track and stalk animals, understand their behavior and habits, and have the right equipment to make the kill.
Tracking and Stalking
When tracking an animal, the key is to be patient and observant. You need to look for signs such as tracks, droppings, disturbed vegetation, and broken branches. You can also look for fur or feathers caught on branches, which will help you determine the animal's direction of travel.
Once you've located an animal, it's time to stalk it. Stalking requires you to move quietly and slowly, being mindful of your scent and any sounds you make. Keep yourself downwind from the animal so that it doesn't pick up your scent. Use the terrain to your advantage, keeping yourself low to the ground and using cover to hide your movements.
Equipment
Having the right hunting equipment is crucial to making a successful kill. Your choice of weapon will depend on the size of the animal and the hunting laws in your area. Common hunting weapons include rifles, shotguns, and bows.
In addition to your weapon, you'll need appropriate hunting gear such as camouflage clothing, boots, and scent control products. You may also need other equipment such as calls to attract animals and binoculars to help you spot them from a distance.
Processing and Cooking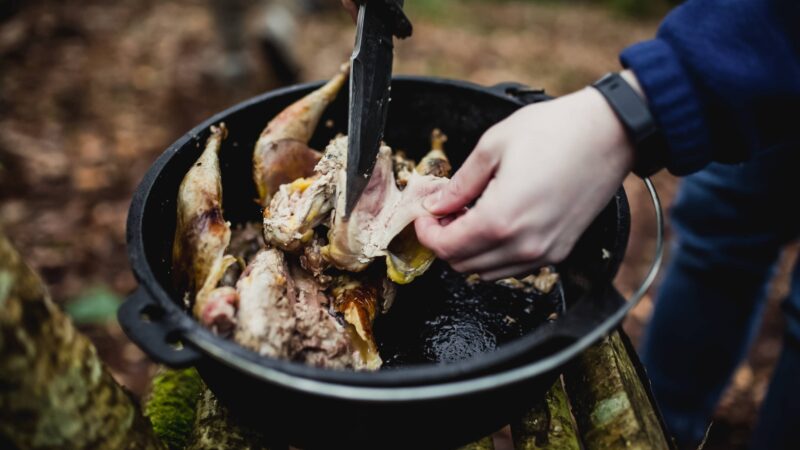 Once you've made the kill, it's time to process the animal. This involves removing the skin, gutting the animal, and butchering the meat. It's essential to do this properly to prevent spoilage and ensure the meat is safe to eat.
When it comes to cooking meat, there are various methods to choose from, including grilling, smoking, and stewing. It's important to cook the meat thoroughly to avoid any risk of foodborne illness.
Conclusion
Learning bushcraft and self-sufficiency skills can be both challenging and rewarding. Whether you're exploring the wilderness or preparing for a survival situation, the skills you learn can help you become more self-sufficient and better equipped to handle any challenges that come your way.
By learning skills such as shelter building, fire starting, foraging, hunting, and more, you can develop the knowledge and confidence to survive and thrive in the great outdoors.