Some of the links in this post are affiliate links. This means that if you click on one of these links and make a purchase, I earn a small commission at no extra cost to you. Also, as an Amazon Affiliate, I earn from qualifying purchases. Thank you.
When you think of a machete, the most immediate image that comes to mind is a long-handled knife with a near to equally long blade. This is not always what machetes look like.
You might be surprised to discover that different types of machetes are made for specific uses.
This article takes you through the general types of machetes and their uses.
Some styles overlap in terms of use, but in general, survivalists value how versatile a good machete can be. Understanding their features will help you determine the best machete for your needs.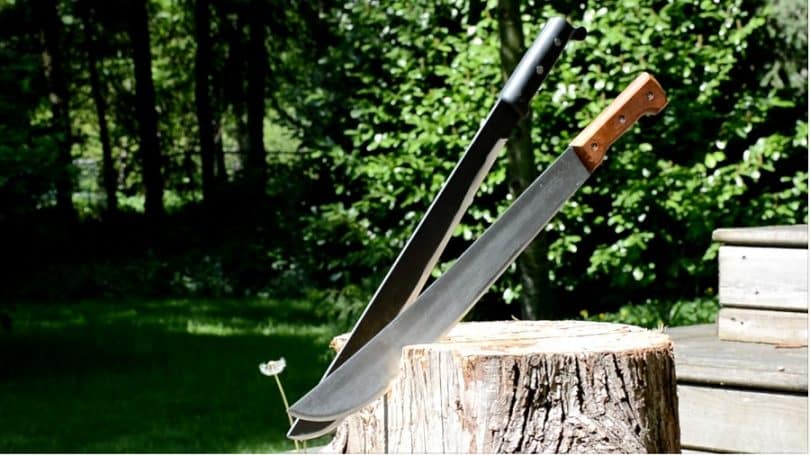 Different Uses for a Machete
Machetes have several practical uses. These weapons have several practical functions, serving as agricultural and landscaping tools.
Below are a few general uses for a machete.
Snow knife for making snow shelters
Stripping bark from trees
Making spears
Making snares
Cutting poles
Digging for roots
Making animal traps
Self-defense
Cleaning game
Clearing campsites and trails
Clearing brush
Cutting firewood
Brush removal
Harvesting crops – grain, can, etc.
Cutting line and rope
Barong machete
The Barong is sometimes called the rawit or Moro barong. This blade has an edge shaped like an elongated leaf, and the tip of the knife is pointed at the pussak.
One side of the blade is curved, with the Dulag or back edge of the blade featuring a lesser curve than the curved blade.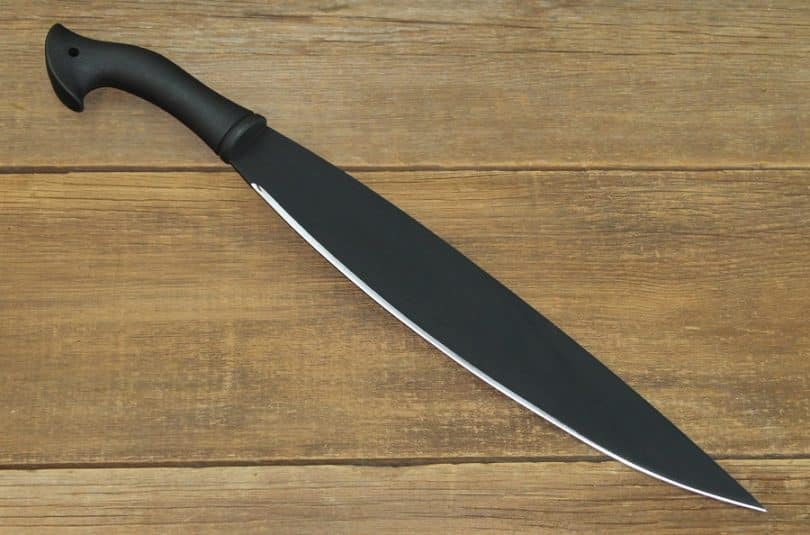 The Puhan or hilt of the blade is curved at the end. The weapons typically measure about 56 centimeters in length and feature a blade measuring anywhere from 20 to 56 centimeters long. The Barong will often feature a wood scabbard, and the hilt will be made out of the Carabao horn or Ivory.
A lacquered cord is often wrapped around the weapon's hilt, and this machete is known for its thick blade. However, this blade is more than a utility knife; it is a weapon that the Philippines use in Silat, Eskrima, and Kali forms of martial arts.
BillHook Machete
There are several alternative names for the Billhook machete – Woodman's Pal, Trimming Hook, Sheaf Hook, Reaping Hook, Coa, Bush Knife, Bill Hook, and Bagging Hook.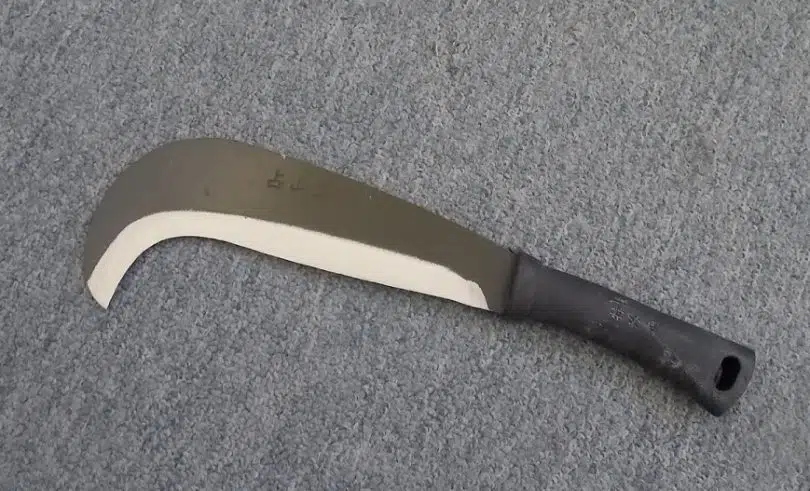 The blade curves downward like a bird's bill, hence its name. The Billhook is a forestry and agricultural tool, ideal for cutting through branches, shrubs, and smaller, woodier, dense materials.
A BillHook is an excellent tool for cutting the buds and side shoots from a branch. The innermost curve of the blade is sharp, making it suitable for cutting away brambles and vines. The Billhook has many practical uses, including the shaping and maintaining of hedges.
Bolo Machete
The Bolo Machete, sometimes called the Rawit, originates from the Philippines. This knife has been used in several wars, including World War I and II, the Philippine American War, and the Philippine Revolution. The Bolo has a convex blade that is a single edge.
The hilt is often made of caribou horn or hardwood materials. This blade is an agricultural tool used for harvesting crops like peanuts, soybeans, mungbeans, rice, and cracking open coconuts.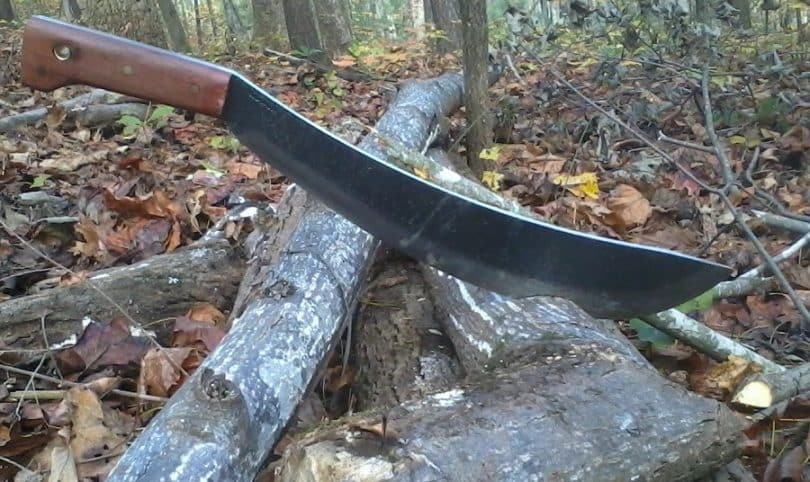 The Bolo has a center of gravity higher and towards the end of the edge, allowing the weapon to provide more power when used for chopping purposes.
If the Bolo has a rounded tip, it is best used for gardening purposes, and not as a weapon that is longer than the standard bolo machete.
Bowie Machete
Bowie knives are popular, and the same goes for the Bowie Machete. Survivalists value this weapon since they are usually looking for a light, portable, powerful blade.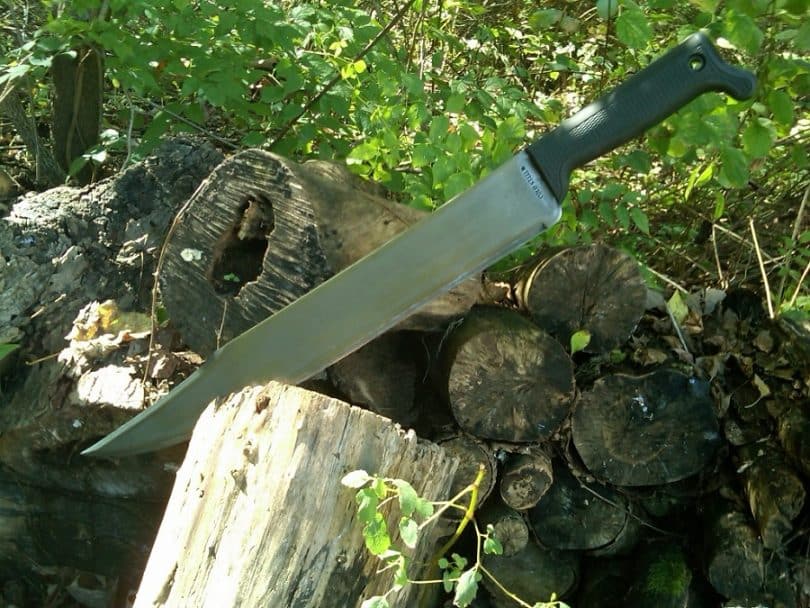 Bowie machetes usually weigh a little over a pound, and their blades are around 12 inches long. These features combined with a sharp, piercing tip make it a very good self-defense machete.
The bowie machete is also functional, and due to its size, it is a good tool to throw in a bug-out bag you keep in your car, or just to have somewhere it is easily accessed.
Bush Machete
The Bush machete is a weapon known by a variety of names. One of the most common alternative names for the blade is the Latin Machete.
Additional references to this practical weapon include:
Vizcaino
Rula
Peinilla
Pata de Cuche
Para chapea
Latin-style machete recto,
El Savador Guarizama
Cutacha
Corvo
Copeton
Colin
Cola de Gallo
Chumpa
The weapon has a blade featuring a long, straight design and a full tang. The machete is easy to transport and makes a very good utility tool for clearing away brush.
The Latin machete is the blade of choice for the United States Military. The reason is that the edges are light and powerful while producing minimal fatigue when being used.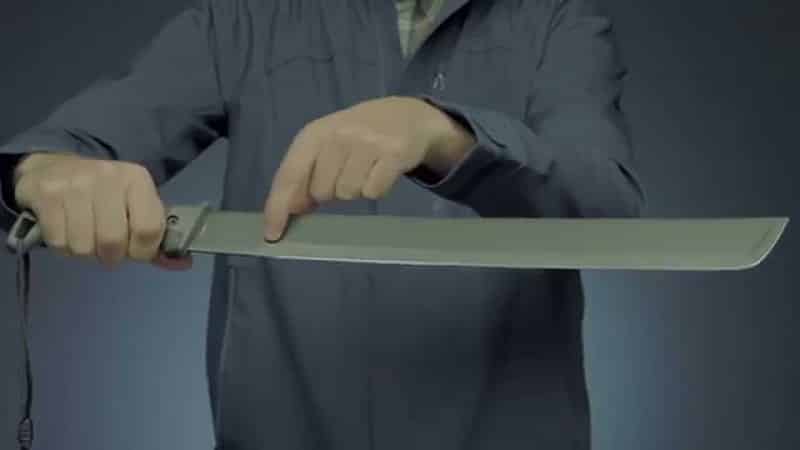 This weapon is versatile and can be used in almost any environment. However, if you need a machete with more power, the Panga and the Bolo are machetes that provide more power than the Bush machete. Also, unlike the Panga, the Bush machete does not have a tip in the True Spear Point design.
While not suitable for heavy-duty chopping, you can use the Bush machete to cut through thick vegetation. For example, you will find the Bush-style machete can cut through a sapling measuring three or four inches in diameter with ease. If you are working at cutting away debris, briars, and underbrush, the Bush machete is a perfect choice.
Kukri
The Kukri, also called the magnum kukri, Gurkha kukri, khukuri, or bush hog, is a machete with a fantastic design. This weapon comes from central Asia, particularly Pakistan, India, and Nepal.
The Kukri is both a tool and a weapon used for self-defense. The blade has three sections, one suited for chopping materials, another suited for carving and whittling tasks, and a third section used for stabbing.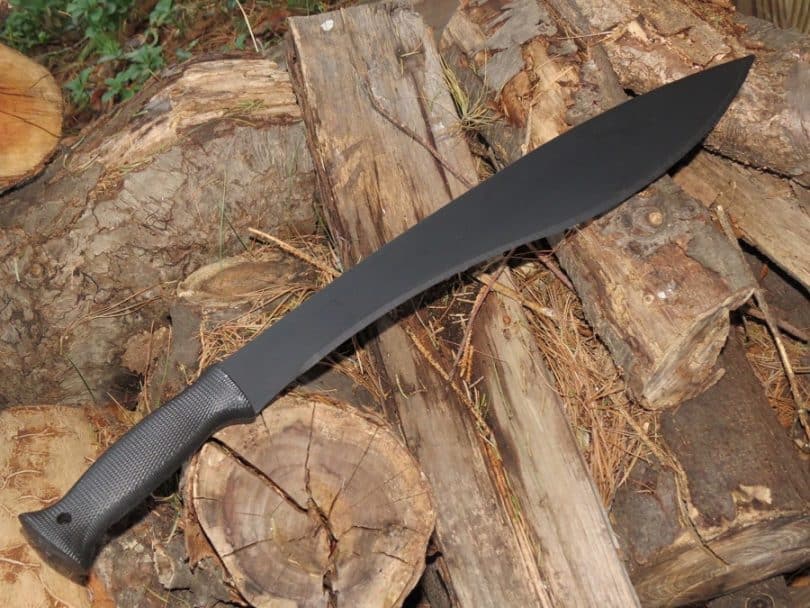 The Kukri can vary in terms of the degree of the blade curve, the thickness of the blade, and the length of the handle and blade. Usually, the spine of the knife measures between five and ten millimeters at the knife's grip, which can then taper to about two millimeters by the knife's point.
The length of a Kukri's blade might vary between 26 and 38 centimeters. Those machetes made for general purposes can be as long as 45 centimeters and weigh up to two pounds.
Panga Machete
The Panga Machete is a weapon commonly found in the Caribbean and Africa. The knife blade is wide and weighted to ensure enough chopping power. This is also a good self-defense weapon, thanks to the inclusion of a pointed tip and sharp, curved blade.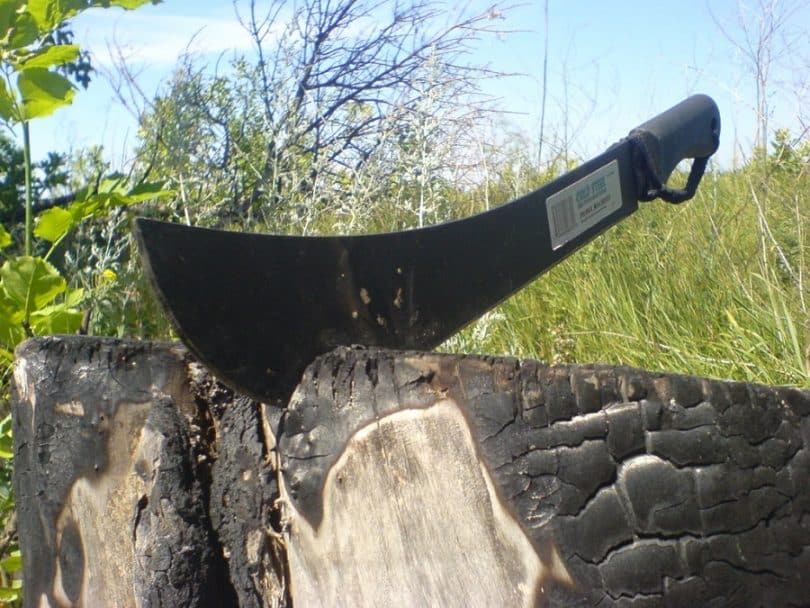 The Panga is an ideal tool for dealing with wood vegetation, chopping, and slicing. Alternative names for the weapon include Viking, Swamp Master, Rozador, Liniero, Daga, Cutlass Machete, and the Burriquito.
Not Sure Which One is Best for You?
As you explore the different types of machetes on the market today, it allows you to see the unique styles of knives and consider the blade's use before buying.
Your choice in a weapon will be based on features, the capabilities of the machete, and however, you plan to use the machete.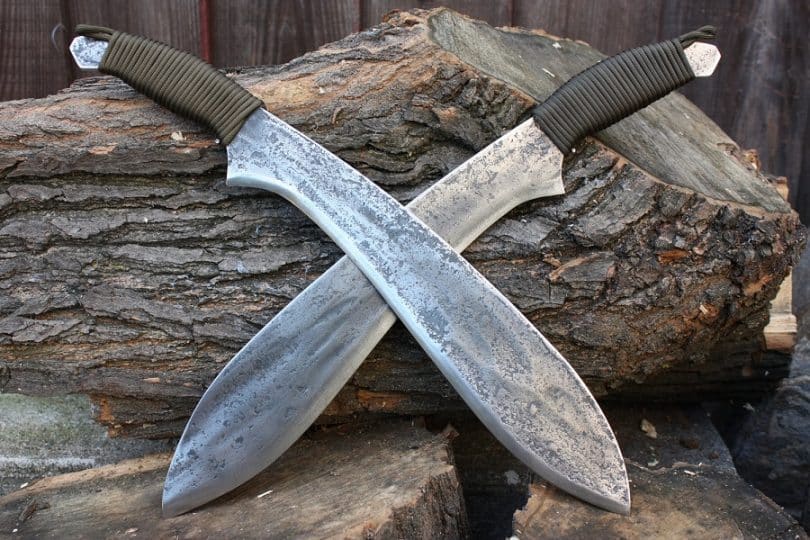 You will most likely find some machete types that overlap in terms of what uses they are suitable for, so you may have multiple choices for a quality machete.
Fortunately, you will find that many of today's machetes are reasonably priced, and it is easy to find one that fits your budget.
If you are interested in a custom or handmade machete, make sure you also check out these small businesses.
Himalayan Gurkhakukri
Zagann Gifts
Related Posts