Some of the links in this post are affiliate links. This means that if you click on one of these links and make a purchase, I earn a small commission at no extra cost to you. Also, as an Amazon Affiliate, I earn from qualifying purchases. Thank you.
Deciding on the best backpacking stove includes several considerations.
How will you use it?
Where will you use the stove?
What fuel will you have available?
There have been a lot of changes in the use over the years, and there are also some reliable stoves that have been around forever.
This post describes several popular stove categories and lists the best stoves in those categories. In most cases, I have used all of these stoves at one point or another, and each one has its advantages and disadvantages.
Types of Backpacking Stoves
There are many types of backpacking stoves. You can make your own inexpensive alcohol stove or purchase a more expensive gas stove. Both stoves have their advantages and disadvantages.
Below, I'll describe each type of stove and its advantages and disadvantages. I'll also offer my favorite and a few of that stoves competitors.
Alcohol Stoves
There is a wide range of alcohol stove possibilities for alcohol stoves. You can build your own from a tuna can or a beer can, or you can purchase a more durable and versatile alcohol stove.
If you want to make an alcohol stove, you can check out the article I mentioned above or go out to Youtube. There is no lack of videos on how to build an alcohol stove.
Of course, an alcohol stove's fuel source is different types of alcohol or comparable fuel – ethanol, HEET, denatured, etc. The variety of fuel sources makes this a versatile stove when traveling.
You will often find these stoves used by long-distance hikers or thru-hikers. Their convenience and light weight make them very popular.
Editors Choice
Evernew Titanium Alcohol Stove
The Evernew Titanium Alcohol Stove is a little more expensive than others, but it is bombproof. This is a rugged little alcohol stove that will last for years. It is my choice because I can't crush it like I have many others.
Shop Here
Competitors
---
Advantages
A very lightweight stove that takes up very little space in a backpack.
Versatile – can burn many different types of fuel.
Simple – Easy to make a DIY stove from easily found materials.
Disadvantages
They don't work well in the wind so you will need a windscreen.
You can't regulate the flame on most alcohol stoves.
They have a limited amount of burn time, usually about 10 minutes.
An inefficient stove that takes about 8-10 minutes to boil 2 cups of water.
Open flame is dangerous to use in very dry climates or environments.
Cannister Stoves
Cannister stoves not only have their category but there are also sub-categories. These are some of the most popular camping and backpacking stoves with alcohol stoves.
Direct Cannister Stove – The stove screws onto the canister itself. This is one of the stoves I've used for years and often use now.
Remote Canister Stove – These stoves connect the stove to the canister with a hose, similar to liquid fuel stoves.
Integrated Canister Stove – This stove is typically integrated with the pot and is convenient to use. Jetboil is a very popular brand.
I like canister stoves because of their convenience and ease of use. They are also safer in dry climates than other open flame stoves.
Editor's Choice
MSR PocketRocket 2 Canister Stove
I have used the Pocket Rocket as my go-to stove for years, whether camping or backpacking. Not only is the stove only 2.6 ounces, but it is one of the most reliable stoves I have used.
Shop Here
Competitors
---
Advantages
Easy to use and can regulate the flame for cooking.
It Burns hot and can heat up 2 cups of water in about 5 minutes or less.
Can use in light winds without a windscreen.
These stoves are lightweight and generally durable.
Disadvantages
Canister fuel can be hard to find on long hikes where you need to resupply.
The stove plus fuel is heavier than some other stoves.
Canister stoves are sometimes difficult to light in cold weather.
Wood Burning Stoves
Wood stoves are good in more heavily wooded, relatively dry environments, such as the east coast. However, they do not work well in wet climates, and you should carry a backup fuel source in case it rains or snows.
As implied, a wood stove burns wood. This is convenient since it means you don't have to carry your fuel, although I will generally gather small sticks as I hike, so I don't have to search when I stop.
Oxygen is pulled in through the bottom of the stove, and you generally rest your cooking pot on top of the stove. The flame is regulated by either adding wood or letting it burn down.
Editor's Pick
image source: bikepacking

​
_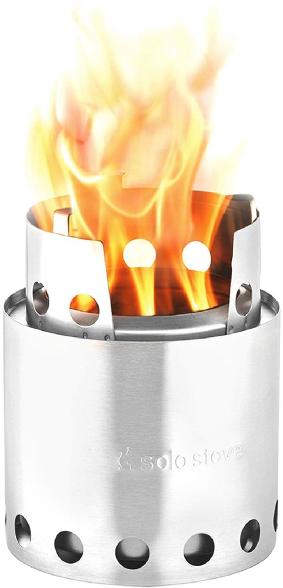 Solo Stove Lite Stove
The double-walled Solo Lite burns wood efficiently, allowing it to burn completely and hot, leaving only ash. In addition, you can pack the cooking ring on the stove, so it does not take up as much space as some other stoves.
Shop Here
Competitors
---
Advantages
You don't have to find fuel which is usually available.
The stove burns hot and heats up water quickly.
Wood can be continuously added so you can cook for a long time.
These stoves are fairly lightweight and you don't have to carry fuel.
Disadvantages
The open flames are not good in dry environments.
The stoves don't work well in wet climates.
The soot makes these messy stoves.
See our article reviews of the best camping stoves to suit your needs for more options.
Liquid Fuel Stoves
When I was backpacking the Appalachian Trail in the 90's liquid fuel stoves were all the rage. They were to the '90s what alcohol stoves are today. Everyone used one.
Like many other stoves, they still have their niche. They are great for winter backpacking and camping and burn gas well in sub-zero temperatures.
They also burn multiple fuel types, so you will often see them used by international backpackers and mountaineers.
A liquid fuel stove consists of a small tank, hose, and stove. You pump the tank to push fuel through the hose to the stove, where it mixes with oxygen to be then lit and create the flame for cooking.
Fuel most often used by these stoves include white gas, kerosene, gasoline, and diesel fuel.
Editor's Choice
MSR WhisperLite Stove – Moosejaw
I've always used the Whisperlite in very cold temperatures, and in the '90s. It has been around a long time and is a solid, dependable stove. MSR Whisperlite also comes in an international version that burns multiple types of fuel.
Shop Here
Competitors
---
Advantages
The fuel burns well in very cold temperatures.
You can use multiple fuel types if traveling overseas.
Fuel is usually less expensive and it's easy to tell how much is in your bottle.
The bottles are reusable, unlike many canister stove fuel cans.
Disadvantages
The stoves require pumping and can be finicky to light at times.
Fuel can be messy and smell.
The heavier of the stove systems.
Solid Fuel Stoves
Esbit and solid fuel – you often hear them used interchangeably.
An Esbit solid fuel cube is made from methenamine and wax that has been comprised. These small cubes are small and easy to light and don't make a mess like some other fuels.
Esbit fuels are not toxic and provide steady heat for about 12-15 minutes. My favorite thing is that they also don't get soot all over everything.
I've used Esbit tabs for years as a great fire starter or backup for stoves that run out of fuel or refuse to light. They are easy and relatively inexpensive, and I almost always carry a couple in my pack.
You can either purchase a small esbit stove to hold them or place them in a shallow depression with sticks over it to set your pot on.
Editor's Choice
Esbit Medium Pocket Stove
This tiny 27-gram Esbit stove is not only perfect for ultralight hikers but it also makes a great backup stove when you are in the backcountry for long periods of time and need dependable heat for cooking.
Shop Here
Competitors
---
Advantages
A lightweight option that is easy to use.
A good backup fuel source, and emergency fire starter in a pinch.
It is not messy and sooty.
Disadvantages
They do smell bad when burning.
They are good for long-distance hiking but hard to find in town.
The cubes are not great for cooking if you want to regulate the heat.
Final Thoughts – Best Backpacking & Camping Stoves
There are so many backpacking and camping stoves to choose from that I keep a few in the closet. In summary, these are my favorites and when and why I use them.
The Pocket Rocket is a great 3-season stove, and it is easy, light, and durable, so I generally grab it for all my long-distance hikes. I don't find the fuel difficult and usually mail it along the trails. As long as the box is marked correctly, it is no problem.
If it is dead winter cold and below freezing, I'll take a liquid gas stove, but that does not happen too often anymore. I'm southern, and that level of cold is no longer appealing. If I do, though, it is the Whisper lite for me. I can trust it in an environment where dependability is essential.
Wood stoves are excellent but not all that practical. They don't work well in wet climates and are dangerous in dry, western environments. For that reason, I only use the Solo Lite in the northeast, and not often since it is a little bulky and I get tired of wood hunting. It is better to play with while camping a lot.
Alcohol stoves are another excellent, lightweight backup stove, but they are messy and can start grass first quickly, so I don't use them much anymore. However, I have made a quick DIY stove since fuel is easy to find when my other stoves die. The one still in my closet is the Evernew.
Finally, you have solid fuel stoves. I always carry a small Esbit cube. They are great for starting emergency fires or as a backup if my stove dies. I also used to have a small Esbit stove, but now I carry a couple of cubes.
Also Read: 9 Best Backpacks For Survival